Many of us are familiar with the term 'Fintech' but what comes to mind when you hear Comms Tech? Comms Tech, short for Communications Technology, is a global phenomenon that refers to the tools, systems, and technologies used for transmitting, receiving, and exchanging information and messages. They include image generating software, photo/ video editing software, transcription software, writing and word processing software etc. While we may be familiar with some of these technologies, how intentional are we about learning how to use them on the job?
If you're wondering how you can leverage Comms Tech in your work, the 2023 Global CommTech Report is a good start. This Report is an in-depth examination of how Public Relations and Communications practitioners around the world think about and use communication technology. Created by Purposeful Relations in partnership with PRovoke Media and other industry partners, the goal of the Report is to improve the performance of Communications teams and PR agencies.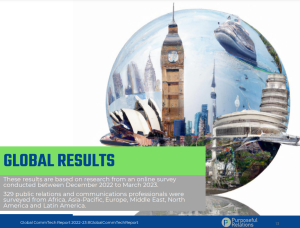 The results for the Report were based on research from an online survey which had 329 Public Relations and Communications professionals from Africa, Asia-Pacific, Europe, Middle East, North America and Latin America as respondents.
One thing that stood out about the Report is the reality gap between how good respondents think they are at using technology and how they are really using it. While more than half (56%) of respondents claimed to be extremely competent or very competent with using Communication Technology, the results of this Report show that respondents don't often use the right tools or use a tool at all. 
Here are some key findings you might want to pay attention to:
41% use spreadsheet for managing tasks and activities in projects.

Just 46% use CRM software.  

39% use a spreadsheet to track and manage contacts.
It is interesting to note that media monitoring and social listening (92%), collaboration and messaging (89%), content creation and production (86%), and social media publishing and scheduling (82%) were rated as the most important technologies for the Public Relations and Communications practice.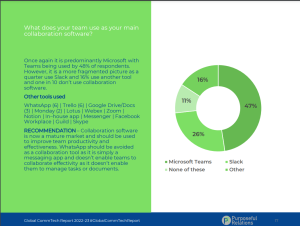 The research also revealed that agency practitioners may not be more competent in the use of Comms Tech than in-house practitioners. 
64% of agency respondents claim to be extremely or very competent at using their existing communication technology stack compared to just 44% of in -house respondents.

However, a huge 84% of in-house practitioners recognise the importance of project planning and task management compared to just 60% of agencies.

60% of agency respondents recognise the importance of CRM software, not far ahead of 56% for in-house respondents.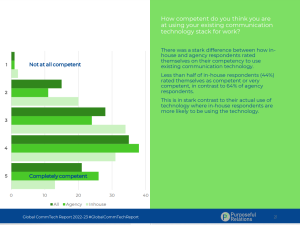 Some actionable insights from the report include: 
Ensure you know how to use existing technology effectively before investing in technology. Most times, you will have tools in your existing platforms that you aren't using effectively.

Effective teamwork requires collaboration and coordination to be effective. So, use professional technology tools to collaborate more successfully.

Investing in technology is never enough. The most important aspect of digital transformation is always culture, training and new approaches to working.
The Report shares a lot more insights on the attitudes and challenges practitioners have with Comms Tech. You can access the full report here.