Can you tell us how you started your career as a Marketing Communications Professional?
I set my foundation by studying Communications for my undergraduate programme. I majored in Electronic Media and Public Relations at Daystar University and immediately started my career as a Journalist in one of the major media houses in Kenya, then briefly joined government Communications and PR.
Soon after, I was back in the media industry, only this time on the business front at Kenya's leading media house where I worked as a Sales Executive. After 2 years of unparalleled performance, I was promoted to management as Business Development Manager, becoming the youngest female manager in the organizations' history.
A few month after my promotion, I enrolled for a Master's programme in Strategic Corporate Communications at USIU-Africa. I had toyed with the idea for a while and only came to it after feeling unfulfilled and I needed to expand my knowledge.
This all happened in a span of 10+ years, gaining numerous skills, experience and knowledge along the way. I can therefore briefly describe myself as an outstanding, innovative and result-oriented Marketing and Communication professional with experience in client communications and relationship management, business development, media and public relations, strategic corporate communications management, content and digital marketing. An inspirational team player with a proven history of success in customer satisfaction, increasing sales and long-term growth.
How has your background working as a journalist impacted the work you do as a communications professional?
Journalists are pretty smart people, I must say! We absorb loads of information, research extensively in an effort to file and produce accurate news reports or features.
As an award winning journalist, I got to network and learn from professionals from a variety of economic sectors – primary, secondary, tertiary and digital.
That said, my focus on Impactful Journalism enabled me to report on responses to social problems and holding those in leadership accountable to the public. This has over the years informed my decision to work towards problem solving and finding lasting solutions to benefit organizations, clients/investors and consumers; Win-Win-Win.
I can't forget to mention the transferable skills gained to navigate the IMC space such as strategy, writing, content development, social media management, stakeholder engagement and conceptualizing communication products and messaging.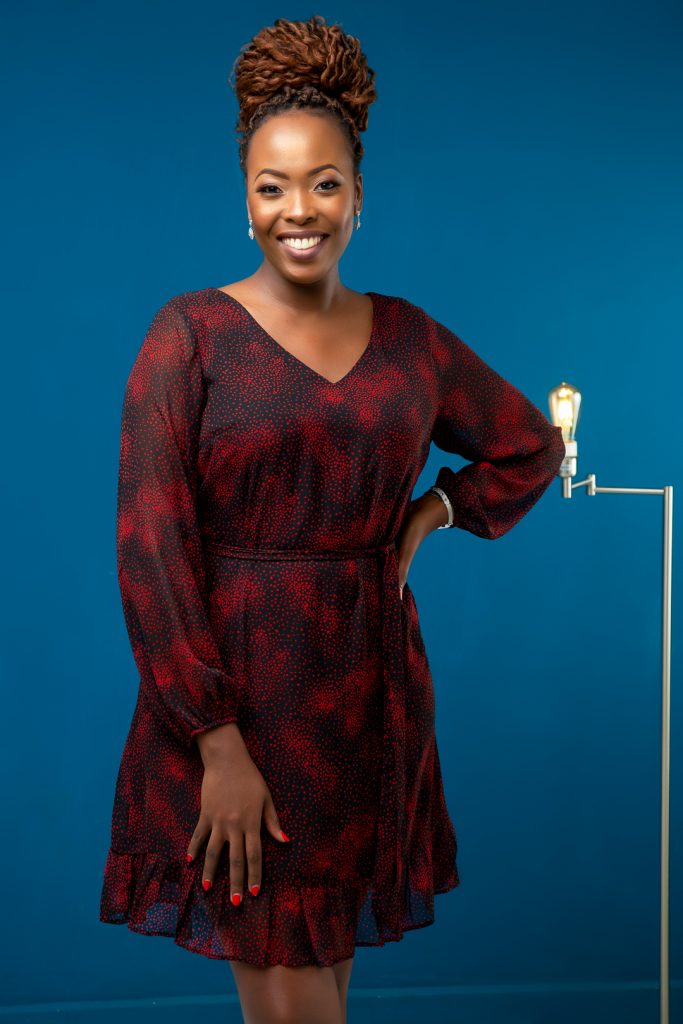 With your experience working within the Kenyan media industry, what lessons and insights can you share about the industry?
First, gradual change in media consumption from traditional to digital in the Kenyan space has certainly shaken things up. We've experienced a rise in ad interaction on mobile phones, declining revenue from print, television and radio that has been attributed to these changes. The media industry in Kenya therefore has potential for growth, especially in tech and digital by diversifying content as they continuously aim to educate, entertain and inform.
Second, progress toward gender parity remains slow in the industry. I strongly feel that deliberate effort from management needs to be realised in order to bridge this gap by creating enabling environments that allow employees to thrive in their profession. For instance, in the newsrooms, female journalist covering 'hard topics' such as politics are rare to find. I experienced this while conducting interviews for a research topic on 'Influence of the Organizational level of Hierarchy of Influence on the media coverage of Kenya's 2017 general elections.' It was tedious tracking down female political journalists from the major media houses in the country.
Lastly, the media must continuously uphold ethical responsibility to society. They have the ability to either negatively or positively influence society.
So far, what steps have you taken to develop your professional skills and abilities?
In the Comms industry, it's important to stay curious and relevant by learning more about trends, businesses, industries and brands, not forgetting to keep abreast with current and social affairs globally.
Personally, I went back to Uni to advance by education and pursued my Master's program in Strategic Corporate Communications.
Other great resources to develop comms skills are professional skills on LinkedIn for instance, short courses such as CIPR which I've been eyeing, participating in Webinars, Conferences, Retreats and attending events just to name a few.
If you could choose, what will you say your dream role is?
75% of potential customers will check a company's social media page before making a purchase. This means communication matters now more than ever! This is where my expertise in Integrated Marketing Communications (which is my dream role) comes into play. I understand how to connect with different demographics, when, where and what message to put out to consumers and therefore setting brands apart from their competitors.
The key is to be customer centric by understanding consumer expectations and using comms for the benefit of the organization. This is made possible where Communication is a key management function, providing counsel and support to the organization while collaborating with other departments.
I look forward to the day where Communication will get a seat at the C-Suite table across all organizations and play a part in ensuring company strategies and operations align with their established plans and policies.
What advice will you give to communications professionals who are just starting off their career?
My advice to any communications professional is to adapt and diversify in the industry. The most unique thing about comms is the fact that it is expansive, for instance one can be an expert at digital comms, crisis comms and PR writing or a cocktail of other skills/abilities. Just don't settle on one.
Secondly, network. It is an essential part of building wealth. It has been said; your network is your net worth! Build meaningful relationships.
Lastly, expand your knowledge. Learn a new skill, take a short course, be sociable and creative, get a mentor to learn from and guide your steps.
The Comms Spotlight is a weekly segment where we feature communications professionals across Africa doing amazing work. Want to be featured or know someone we should feature? Send an email to letstalk@thecommsavenue.com