Our Comms Spotlight for this week, Maureene Danielle, had her mind set on working in Public Relations from a very young age. Today, she is the Fixer in Chief at Danielle Solutions PR, an agency with a focus on the hospitality sector in Kenya. In her interview with us, Maureene shares her professional journey after trying to obtain a degree in Business Administration and the lessons she's learnt from running her PR agency.
---
How did you begin your career in Communications?
Due to some circumstances, I had to start going with one of my parents to work from age 12. And I remember days when I would sit in the office and I would want to answer the phone or play on the typewriter. From that age, I got to know how a business ran and wanted to be a boss.
After finishing high school, I went on to the United States International University in Nairobi, Kenya. I had thought that since I wanted to be my boss, I'd do Business Administration. After one semester, I didn't want to go back to school because Maths and Statistics were hard for me. But guess what? A week later, I was back in school and I changed to Journalism class and minored in International Relations, which was smaller and much more interesting.
During that time, I remember my late lecturer, Dr Absalom Mutere, saying, "Garbage in, garbage out", because the internet and computers were just coming in, but everyone ignored it and never knew how powerful it would become today.
As a student, I was convinced to contest in a pageant. I saw how the event was organised and by the next year, I helped to organise the event. That's also when I started networking because I remember getting the contacts of all the judges. I kept those numbers up to date, and some of them grew to be my friends and colleagues.
After finishing from university and working at the family Media business for a while, I was diagnosed with Bipolar Disorder. This was about 21 years ago. At that time, no one around me knew much about mental health. I tried getting work at the big ad agencies like Ogilvy based in Kenya but it was hard. I got an internship at National Broadcaster and I also went to Daystar University to do my Master's degree.
After working in the radio department at the National Broadcaster for four months, I went for a six-month internship at an NGO with Human Rights Activist, Maina Kai. At the time,  as an intern, I served tea and coffee, and did Admin work. While in this role, I also went to Uganda as a Film Documentary Producer. Afterwards, I was employed as a Content Producer by News24, which is part of Media24 and DSTV Group, MultiChoice. At the time, they were coming to Kenya to set up an online news website. My boss came down from South Africa and trained me on how to manage the website as I'd never worked on the backend of a website. That was the best training or onboarding I've ever had. After about two months, I was promoted to Team Leader for Kenya and that was such a huge push.
Shortly after I left this role, I had to take some time off for a pregnancy. After I gave birth, it took me two and a half years to get a job. The first job that came calling was doing PR for a hotel.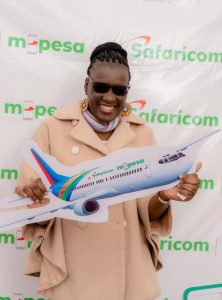 How do you use Comms to create impact in the hospitality industry?
Never has there been someone specialised in Communications just for hospitality in Kenya and Danielle Solutions was the first. Many PR people at the time were in-house, or they worked in the big agencies but I was doing it niche.
After working with big hotels, I worked at a three-star hotel. I found that three-star properties, two-star properties, and some four-star properties in Kenya were not able to afford the big PR companies. With these hotels, internal decision-making is faster, no one is sending emails abroad or hiring international photographers. Funny enough all of my hospitality employers have always told me, "We have no budget". So I have to invent and find ways of getting the job done.
I am always intentional about connecting with people. I have a WhatsApp group where I keep in touch with all my former colleagues. It has now turned into a jobs group for hospitality because we realised a lot of people in Kenya wanted jobs in hospitality but they were being scammed in the Middle East.
There we vet and only post jobs which we are sure of. We get it from a Human Resource person or directly from a General Manager. Currently, that group has eighty people and I've made sure to keep in touch with all the General Managers and employees through Facebook or WhatsApp which is easier to manage. So I have colleagues all over and we use these networks to share opportunities and to help each other.
Can you share some career lessons that have shaped you into the professional that you are?
Don't start anything without a signed contract. A one-page contract is better than nothing because word of mouth will do nothing for you. And if there is no contract, go online and get a sample contract.
I've been employed with no contract and I was able to be let go and be paid little or let go without notice or I worked with no medical. If there is no medical at the organisation, get your National Medical Insurance for yourself and pay for it.
Emotional intelligence is training you have to do if you are not offered training at work. Look for resources out there. Attend seminars or workshops for people, and watch seminars that are free online so that you can know how to deal with workplace politics.
For those who want to be their boss, do not resign before you've put some money aside to help you during the day. And then you don't have to start big, rent an office, hire employees, something which I did, and one of the mistakes I made was hiring employees before I signed contracts with the client.
Specialise, specialise, specialise. Don't say you can do everything. Learn to delegate. For instance instead of charging 1000 dollars why don't you charge 7000 dollars and then that 3000 is divided between two young people who can do photography and another who can be your PA?
Can you share some differences in Comms practice for NGOs and Non profits compared to organisations and brands in the hospitality industry?
The difference between the NGO world and the hospitality world is that Communications in the NGOs is known as Communications because you are disseminating information to help people but in the hospitality industry, it is not called Marketing Communications. Most times, you find that the professional has to combine Marketing with the role of Communications.
In hospitality, you are selling a product as opposed to the NGO world whereby you are giving information to change lives and to help people.
Another thing is that in the NGO world, you do reports, newsletters, and documentaries. On the hospitality side, you sell and your communications have to have results. I find many people say, "Maureene, I'll hire you on commission", it is to ensure that I deliver and that's how they measure how much revenue you brought in. When you do an event in the hotel, most times they expect you to make money.
What advice would you give budding professionals that want to follow your path?
Let me reiterate as I wind my interview – contract, contract, contract. By the end of the day, people also break contracts but contracts can also protect you.
One thing I learned from my family is to start small, do your best, and save money. Danielle Solutions is still a startup. I will not say it's an established consultancy. I am still growing, I am still learning and right now I am 41. So let's talk when I am 50.
The fact that I'm doing this interview means that I am doing something right because you are all the way in Nigeria. It's a humbling experience that someone saw my work on LinkedIn and reached out.
Something that has helped me in my career up to date is failure. Failure sharpens, and failure is painful. Failure took away four years from me. I lost four years because it was hard getting hired because of my age. Now that I focus on consulting, I am confident.
Just a final word, I would not be able to do my consultancy or business without my family, so family is key, especially for people who are running their own businesses.