Our Comms Spotlight for this week is Edward Israel-Ayide. His journey into a career in Comms began with a role as the Executive Assistant to the Creative Director of a Fashion brand. Over 10 years later, Edward now leads a highly skilled team of professionals in his current role as the Founder, Head of Communications & Strategy at Carpe Diem Solutions. In this interview, Edward takes us through his career journey and dispels some myths about the PR practice.
---
What does your role as Founder, Head of Communications & Strategy at Carpe Diem Solutions entail?
My role encompasses a multifaceted range of responsibilities aimed at driving impactful results for our clients. Leading a team of skilled Communications Strategists, Content Specialists, and Media Relations experts, I steer the direction of our company's offerings and ensure our clients receive the utmost value and insight. Carpe Diem Solutions caters to various industries, including Real Estate, Banking, Entertainment, Technology, and Consumer Goods.
We play a pivotal role in shaping their Communication and Branding initiatives by advising C-Level Executives and key decision-makers within these sectors. We recognise the significance of understanding local customs, trends, and sentiments, enabling our clients to effectively engage with diverse audiences globally. By meticulously crafting messages and content that resonate with their target audience, we establish a deep sense of trust and credibility for their brands.
My responsibilities involve developing high-level Communication strategies that increase our clients' share of voice and enhance their Reputation Management capabilities. To achieve our objectives, I closely collaborate with our team members to ensure seamless execution of strategies and campaigns. I actively guide and mentor our experts, fostering an environment of innovation, excellence, and dedication to the success of our clients. I also continuously monitor industry trends and emerging Communication Technologies to stay at the forefront of the ever-evolving PR landscape. This enables us to adapt swiftly to new challenges and opportunities, ensuring that our clients continuously receive cutting-edge solutions that deliver tangible results.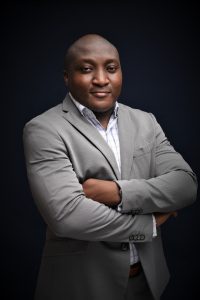 We'd love to know the story of how you started your career in Communications and how the journey has been so far.
My journey in the world of Communications began over a decade ago when I joined a fashion brand as an Executive Assistant to the Creative Director. Although my initial role was not directly related to Communications, I eagerly took on additional responsibilities, which led me to handle media enquiries and plan events and campaigns for the brand. During this time, I recognised the importance of effective Digital Communications and developed a comprehensive guide on how the brand should present itself online. The experience ignited my passion for Communications, prompting me to venture into the Marketing Communications industry with Chocolate City Group, a prominent African media and entertainment brand.
As the Head of Marketing and PR, I immersed myself in diverse projects, collaborating on campaigns for reputable organisations such as UNICEF, the Nigerian Government, and Huawei. Working on impactful initiatives honed my skills and filled me with the vision to help brands unlock the benefits of Strategic Communications. The vision took shape in the form of Carpe Diem Solutions, a Public Relations Agency that supports brands in leveraging the power of Communications to address social challenges and achieve their business goals.
Can you share some challenges you faced on your career path and how you were able to overcome them?
In the early stages of my career, I encountered several challenges, particularly regarding limited access to tools and resources. This compelled me to adopt a hands-on approach, relying on practical experience to create solutions. The nascent state of the Nigerian PR industry at the time also added a layer of complexity to my journey. Despite these challenges, I navigated through the obstacles by embracing two invaluable pillars: mentorship and community.
Throughout my career, I have sought guidance and wisdom from seasoned professionals in the Communications industry. Their support not only provided me with a solid foundation but also instilled in me a sense of direction and purpose. Apart from that, industry communities like The Comms Avenue have played a crucial role in shaping my expertise. Engaging with like-minded individuals within these communities has granted me valuable insights, enabling me to stay abreast of industry trends and best practices.
There are a lot of myths surrounding PR practice. What do you think the general public should know about PR?
In Africa especially, PR often suffers from misperceptions that limit its potential. Some perceive it merely as a tool for Public Sector propaganda, while others confine it solely to Media Relations and Publicity. Such narrow viewpoints fail to acknowledge the depth and strategic nature of the Public Relations discipline.
Public Relations is a multifaceted and sophisticated practice that extends far beyond superficial image management. At its core, PR revolves around strategic planning and leveraging Communication expertise to facilitate meaningful connections between brands and their stakeholders. Building relationships with diverse audiences and nurturing trust are also key objectives of PR. It goes beyond short-term publicity and focuses on long-term reputation management and brand positioning that drives tangible results for businesses and organisations.
How do you stay inspired as a professional?
One valuable lesson imparted to me by my late father was the importance of perpetual curiosity and a hunger for learning. This thirst for knowledge has been a constant source of inspiration throughout my career. I draw inspiration from diverse sources to expand my mind and stay at the forefront of the PR industry. Books authored by visionaries like Seth Godin, Harold Burson, and Edward Bernays offer practical insights and real-world examples that can be seamlessly adapted for our projects and campaigns at Carpe Diem Solutions. I also find immense value in following the work of my peers within the broader Marketing Communications industry, so you will usually find me consuming Advertising and Marketing campaign videos on YouTube.
Can you share advice for upcoming professionals who would like to follow your path?
For upcoming professionals who aspire to follow a path similar to mine in the field of Communications, I would offer the following advice:
i. Embrace a Growth Mindset: Be open to continuous learning and stay curious. Seek opportunities to expand your knowledge through formal education, mentorship, or industry events. Never stop exploring and challenging yourself.
ii. Gain Practical Experience: Practical hands-on experience is invaluable in this industry. Don't shy away from taking on additional responsibilities or projects that allow you to build your skill set and showcase your abilities.
iii. Find Mentorship and Community: Seek guidance and support from experienced professionals in the field. Mentorship can provide valuable insights and help you navigate your challenges. Engaging with industry communities can broaden your perspective and connect you to the latest trends.
iv. Emphasise Strategic Thinking: Recognise that communications is not just about tactics and execution. Understand how communications can align with broader business objectives and contribute to achieving measurable results for clients.
v. Focus on Relationships: Building strong relationships is at the heart of PR. Invest in understanding your clients' needs, target audiences, and the industry landscape. Cultivate trust and credibility through effective Communication and consistent delivery of value.
vi. Be Resilient: PR may present challenges and setbacks like any career path, but by being resilient and seeing obstacles as opportunities for growth, you can learn from failures, adapt, and keep moving forward.