This week on Comms Spotlight, we have Anthony Kamba. Anthony is currently the Advocacy and Campaign Manager at Oxfam International. He began his career as a journalist with a focus on education and healthcare. In our interview with him, he shares how his passion led him to travel just to find opportunities to cover stories. He also stresses the need to use communications to create impact in society.
---
What is a typical workday like as the Advocacy and Campaign Manager at Oxfam International?
My typical day starts with a personal reflection, even before I get out of bed. And of course, the self-preparation gets in the way before I arrive at work. My work is usually scheduled according to our monthly advocacy priorities, and that informs how my weekly and daily schedules will run. For instance, this time around, our priority has been the situation of refugees and returnees fleeing the Sudan crisis, into South Sudan. Oxfam has been part of several aid agencies that went on the ground during the first fortnight of the arrivals of displaced people. So, in essence, I sit in a number of planning and coordination meetings that are aimed at improving not only how Oxfam responds to the situation but also expanding that donor understanding of the needs on the ground. As such, lots of time go into meetings – both internally and externally including government officials, donor representatives, peer agencies and the media.
How did you begin your career journey and what are some of the factors that have contributed to your professional success so far?
I started my career as an amateur writer with a passion over 15 years ago – about 2008 when I had my first news publication in the then one country called Sudan. I was then in my first year at University and writing was my way of answering my urge to do something about some of
the societal injustice resulting from the impending separation of the Sudan. Social services were hard to come by in most remote and most often the urban centres of the then Southern Sudan's Western Bahr El Ghazal.
So I picked up stories wherever travel had taken me, but focusing majorly on education, healthcare and access. As it were, my writing was something to admire and my editor, Badru Mulumba, offered me opportunities to correspond for an outfit he ran from the City of Juba. Times went on and I found myself in the mentoring hands of one of the prolific feminists of our times – Rosebell Kagumire, who in turn gave me a ton of opportunities including doing a writing fellowship program. Since then, I did not give up. Driven by passion, I went on to work for a number of local and international media agencies. I must admit that passion, tenacity and my writing style have always set me apart and pushed me forward to what you might consider success this far.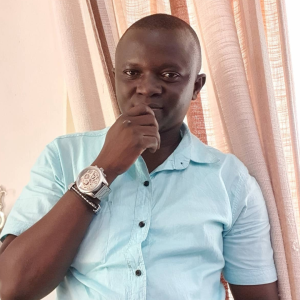 Can you tell us about a particular campaign or project you've worked on that still stands out to you today?
In 2018, while working at Plan International, I rolled out the Girls Get Equal campaign in South Sudan through which we worked on the empowerment of rural communities and leadership structures to support girls' access to unhindered equal spaces. Through this campaign, many girls got mentorship opportunities and career guidance. Quite a great number found inspiration from discussing their career plans and have since taken up spaces of leadership and participating in community development processes.
How do you ensure that you consistently add value to your organisation?
From the first days of my career in the media, I refused to be dragged into the conversations of political reporting without ever thinking of the peace effect of such reports. As such for every political reporting assignment I took, I made sure to at least look at an angle of peace at the end. As such, I found myself making sure to do development journalism – where I focused on doing in-depth stories of the need, the effects and the efforts communities are taking with support from government or agencies to improve their livelihoods. That way I found myself adding value to the newsroom.
One of my biggest leaps in the media was when I emerged among the top 20 African Journalists in agriculture reporting, in a program handled by the African Media Initiative. Fast forward to the current elements of my work, I find myself very restless in spaces that are not inclusive. And "inclusive" means every sense of the word but with some emphasis to having removing barriers to inclusivity. I have stayed vocal where there is a difference in the way staff are treated, how policies are applied, services rendered and silent bullying occurs.
So, I make sure to use my voice to improve the work culture and break any barriers to working well. That is my first value-add. Of course, by way of innovation, I have brought novel ideas into spaces I traverse and help improve how our work impacts society.
Who are the three people who have influenced you the most on your career journey?
As earlier mentioned, I found lots of influence from senior media personalities – including my former Editor, Badru Mulumba, Activist – Rosebell Kagumire and of course, my mother who always told me – "Son, I have nothing to offer you but prayers, that all things your mind guides you to do, should be led by your heart." I look up to her for being the most resilient woman I have ever met – having raised us almost solely alone.
What advice would you give to professionals starting their communications career?
It is important to know why you are taking a communications career path. In the case of my country, it is a risky job to become a journalist but to become the very best in the communications sector, you need solid field journalism exposure. It means you have to accept the baptism of fire to help you sharpen your critical thought, analysis, context awareness, rapport building, immersion, empathy, resilience, scheduling and prioritization, and writing skills. The communications sector is not all suits and clean boots. It's about creating impact for the least privileged in society.