Our Comms Spotlight for the week is Abraham David, Head of Digital Media at Rage Media Group. For Abraham, Comms is not just a job. It is a lifelong passion. His journey to becoming a Comms professional started with him managing social media pages for his friends. He shares his experiences on the power of marketing on brands with us and what excites him about being a communications professional.
---
Tell us about your journey into Communications. How did it begin and what steps did you take to grow?
My journey into communications began when I was knee-high to a grasshopper. Okay, maybe not that young, but close! I have always loved connecting with people and helping them achieve their goals.
Growing up in a home where both parents were successful entrepreneurs, marketing communications was always part of their show of love and topped discussions during every family dining. In my secondary school and university days, my friends always talked about my love for Marketing, and they often said it contributed to all my accomplishments in leadership and ability to navigate through different social strata. In their words, "You can sell ice to an Eskimo." But the truth is I didn't believe so. I lived in denial of these abilities because I wanted to do something more like SaaS (Software as a service) related. I had a diploma in computer science and a degree in Comms; with a major in dramatic theory and criticism. So I wanted to merge both.
During my service year, I was in search of a deeper meaning to my existence but always found myself as the unofficial 'social media manager' for my friends' bands, helping them promote their gigs and get more fans and my negotiation skills always appeared impressive.
I decided to start an e-commerce brand and I had to do all the online marketing and Comms myself to reduce costs. That is when I realized the power of digital marketing and how it can help businesses and individuals reach their potential. This was the real deal.
To grow in the industry, I have invested in a range of certifications, courses, and mentorships, but I have to say that learning on the job has been the most valuable experience for me.
What's a typical day like for you as Head of Digital Media at Rage Media Group?
As Head of Digital Media at Rage Media Group, my typical day involves a lot of staying hydrated, brainstorming with my amazing team, and ensuring our clients are happy. Oh, and Excel spreadsheets, lots of those! Lol.
I love the variety each day brings, from creating media buying strategies to overseeing the development and execution of digital marketing campaigns for clients across a range of industries.
This includes analyzing campaign data to presenting new ideas to clients, collaborating with our team of experts to develop creative strategies, reviewing campaign performance data to make data-driven decisions, and communicating with clients to ensure their needs and objectives are met. It keeps me on my toes!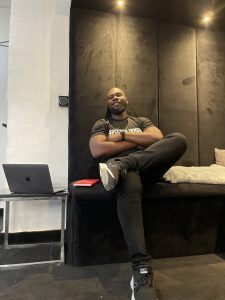 Can you tell us about an accomplishment in your career that you are most proud of?
One of the proudest moments in my career was successfully leading the digital marketing campaign for a real estate development company, which resulted in a 70% increase in sales leads and a 55% increase in revenue for the company.
They were struggling with sales and revenue but we saw their sales double within just a few months, and it was incredibly rewarding to see the impact our work had on their business.
This project required a deep understanding of the real estate industry and effective communication with key stakeholders to execute the campaign successfully.
What do you do to stay up to date with happenings in the constantly evolving communications industry?
Keeping up with the constantly evolving communications industry can be a challenge, but it's also what keeps me excited about my job. I make sure to read industry blogs and news sites, attend conferences and webinars, and connect with other professionals in the field. But sometimes the best ideas come from just experimenting and trying new things. I love playing around with new tools and platforms, and sometimes it's the wackiest ideas that end up being the most successful.
What are the most valuable lessons you've learned on your career journey so far?
The most valuable lesson I have learned on my career journey so far is the importance of building strong relationships with clients and stakeholders. Effective communication, trust, and transparency are key ingredients for success.
As I have grown in my career, I have learned that the best results come from working with others and bringing different perspectives to the table. I am lucky to work with a talented and supportive team at Rage Media Group, and we are constantly learning from each other.
What advice would you give to anyone reading this who is thinking about starting a career in Communications?
If anyone is thinking about starting a career in Communications, my advice would be to jump in with both feet! Don't be afraid to try new things, take risks, and make mistakes. The industry is always changing, but that just means there are endless opportunities for creativity and innovation.
Invest in your education and training, seek out mentors and networks for support and guidance, be prepared to constantly adapt and learn as the industry evolves. And don't forget to have fun! At the end of the day, we are all just human beings trying to connect with each other.