Magnifique Migisha is a Digital Strategist based in Rwanda. Follow on Twitter: @Migisha
---
Visit Rwanda as a brand has established a positive reputation with millions of people from across the globe that are associating with it and has provided a platform for Rwanda to showcase its tourism attractions, cultural heritage, and investment opportunities to the whole world.
During a recent press conference with local, regional, and international media, President Paul Kagame noted that through the 'Visit Rwanda' campaign, the country entered into a partnership with the English football club, Arsenal, as well as France's Paris Saint-Germain. He added that these partnerships have returned impressive dividends. President Kagame also disclosed that Rwanda could soon partner with a major football club. This deal shall be the third after Arsenal and Paris St. Germain.
Through this campaign, investors from across the globe opt to invest in the country which is a positive sign of continued investor confidence in Rwanda by both local and foreign investors. Figures released by the Rwanda Development Board indicate that the country registered investments worth $3.7 billion in 2021, up from $1.3 billion in 2020, as these investments were driven by strategic investment projects.
This campaign has been successful in promoting Rwanda's unique attractions, such as mountain gorillas, stunning natural scenery, and cultural heritage. Visiting Rwanda provides a great opportunity to explore the country's natural beauty in all corners of the country.
The CEO of Rwanda Development Board, Clare Akamanzi, discloses that Rwanda's partnership with Arsenal and Paris Saint Germain generated over US $160 million last year in media value. This, in turn, helped generate US $445 million in tourism revenues courtesy of the over one million visitors to Rwanda in 2022. This revenue represented a 90 percent recovery to pre-pandemic levels, as compared to a global average of 65 percent recovery according to the World Tourism Organisation.
Rwanda's tourism industry has been growing rapidly and the 'Visit Rwanda' campaign has played a key role in promoting the country as a world-class tourism destination. In various matches of Arsenal and Paris Saint-Germain, which are followed by millions of fans from across the globe, the 'Visit Rwanda' brand is visible clearly on the sleeves of the players' jerseys and other club officials. In addition, the brand can be seen on various screens across the stadiums and in TV advertisements.
'Visit Rwanda' has been successful on various digital media platforms in generating interest among net citizens. They regularly share millions of posts that trend with #VisitRwanda's hashtag can be clearly tracked on Twitter, Instagram, and Facebook accompanied by their feelings about Rwanda.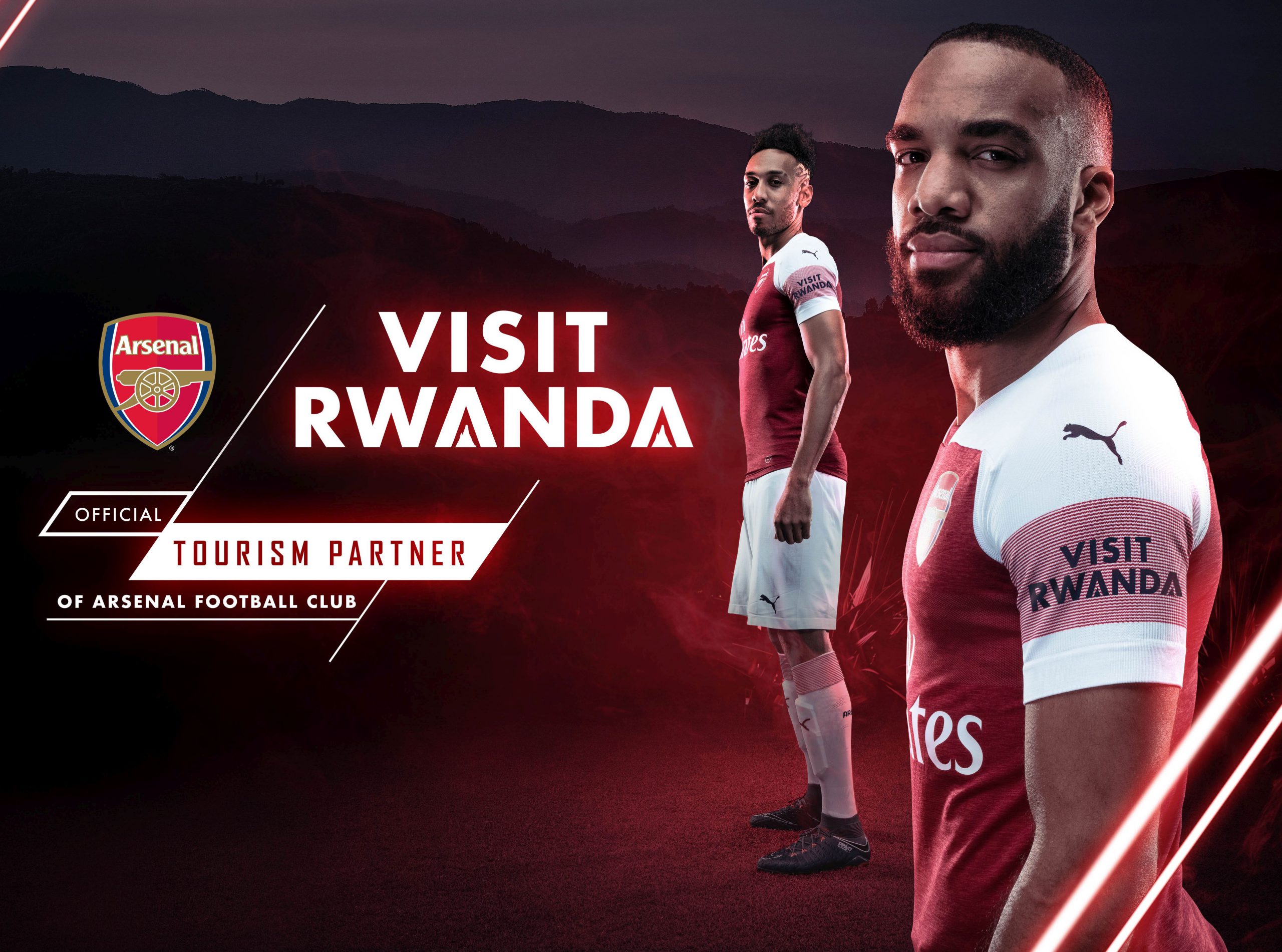 These posts with stunning images and videos of Rwanda's epic scenery are shared by people from all walks of life with their inner feelings.
Several international celebrities have visited Rwanda to explore the country's natural beauty. These stars also raise awareness about Rwanda's unique tourism offerings. A good number of them have opted to support the country's conservation efforts, which is a positive sign that the world is recognizing Rwanda's efforts in wildlife conservation and environmental protection.
Tourism in Rwanda has been growing rapidly and the country has become a popular destination for travelers from around the world. One of the main attractions for tourists in Rwanda is gorilla trekking. During these visits, tourists get an opportunity to see these magnificent creatures up close in the Volcanoes National Park. Tourism in Rwanda offers visitors a unique combination of wildlife, culture, history, and natural beauty and supports the growth of Rwanda's economy through job creation for various players in this sector.
Rwanda introduced Kwita Izina, an annual Rwandan ceremony of giving a name to a newborn baby gorilla, that takes place at the base of Volcanoes National Park. This particular event celebrates and raises awareness of the country's conservation efforts related to mountain gorillas. Hundreds of celebrities from across the globe participate in Kwita Izina so that they can experience Rwanda's conservation efforts which promote sustainable tourism. Participants get an opportunity to visit the gorillas.
Leading destination for international events
Rwanda's Meetings, Incentives, Conferences, and Exhibitions (MICE) strategy is aimed at promoting the country as a premier destination for hosting global events, conferences, and meetings. The strategy is focused on developing all necessary infrastructure, policies, and frameworks so that the country can host larger international events.
Very recently, Rwanda successfully hosted several major events including the Commonwealth Heads of Government Meeting (CHOGM) in June 2022. This was historic. It was the first time the country hosted CHOGM, a gathering of leaders from Commonwealth member countries.
Other significant events that Rwanda hosted in recent years include the African Union Summit in 2018, the Transform Africa Summit, and the World Economic Forum on Africa. These events brought together leaders, policymakers, business executives, and other stakeholders from across the globe to discuss important subjects and opportunities in various sectors.
Similarly, Rwanda has been leveraging its MICE strategy to promote sports tourism. The country invested in modern sports facilities such as the Kigali Arena, a world-class indoor arena that accommodates up to 10,000 spectators. The arena hosted major basketball events including the 2021 Basketball Africa League (BAL) inaugural season, which was the first-ever NBA-backed professional basketball league in Africa.
In football, Amahoro National Stadium, a multi-purpose stadium is now under renovation to improve its facilities and seating capacity. In March 2023, the 73rd congress of the world football governing body (FIFA) was held in Rwanda and brought together over 2,000 delegates including all 211 FIFA members.
The Visit Rwanda campaign and the MICE strategy contribute to the successful hosting of events that help position Rwanda as the premier destination for hosting large international events. They have so far contributed to the country's economic development by boosting its tourism industry and creating opportunities for local businesses. The Visit Rwanda brand positions the country as the leading tourism hub. The country has, over the last few years, carved a niche for itself as a favourite destination for global events.