Aderinsola Jolaosho is a Managing Partner at ThePush.ng and a Mentor in the sixth batch of our Comms Mentoring Programme. 
---
Signing up for Mentorship on The Comms Avenue
Some months ago, I saw a call for mentors on The Comms Avenue and it inspired me to apply. During my application process, I asked myself,  "Do you even know the implication of what you are doing? Are you sure this is what you want to do? Have you sorted out the things you need to do for yourself?" These were selfish questions, I must admit.
As I started filling out the form, my heart was beating 'jigi jigi gbam gbam'. After filling out the forms, Dami from The Comms Avenue reached out to me. And in a few weeks, I received an email and got matched with my mentee. When I opened this mail, the first thing that caught my attention was that my mentee has a Master's Degree and years of work experience. My mind started racing again, and my thoughts were. "I asked for a fresh graduate mentee. What will I tell someone that has a Master's Degree and years of experience?" Of course, I have years of experience but I felt I should have gotten somebody in an entry-level role. I just accepted the pairing and looked forward to meeting with my mentee. Her name is Peniel.
Meeting Peniel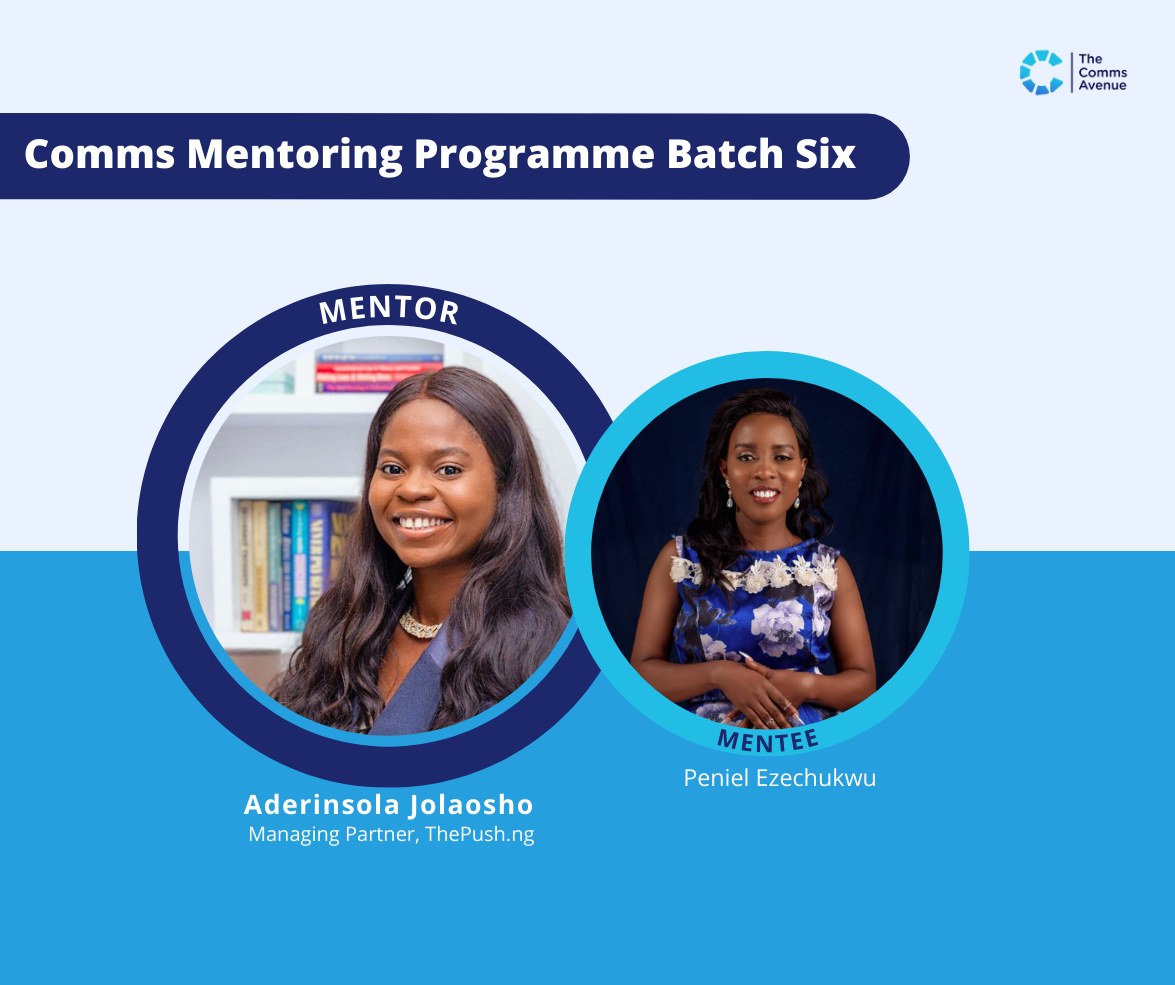 The first time I spoke to Peniel, we clicked. But one thing struck me after our first meeting, she had been in a transitioning stage in her career and was looking forward to getting a job. She had gone for a lot of job interviews but got none.
During our conversations, one phrase was recurrent in Peniel's sentences – 'I am not so good at this'. But from my evaluation, Peniel knew a lot more than the average comms officer. She was not sure of what she could do, what she could achieve, and what she could give in terms of value. It was drawing her back a lot. This was more about a 'confidence walk' for Peniel. We took some exercises that were peculiar to her and where she was in her career path. I mapped out confidence-building exercises for her. I told her, "If you do not do these exercises, I would know." I was not lying when I said so.
I Prayed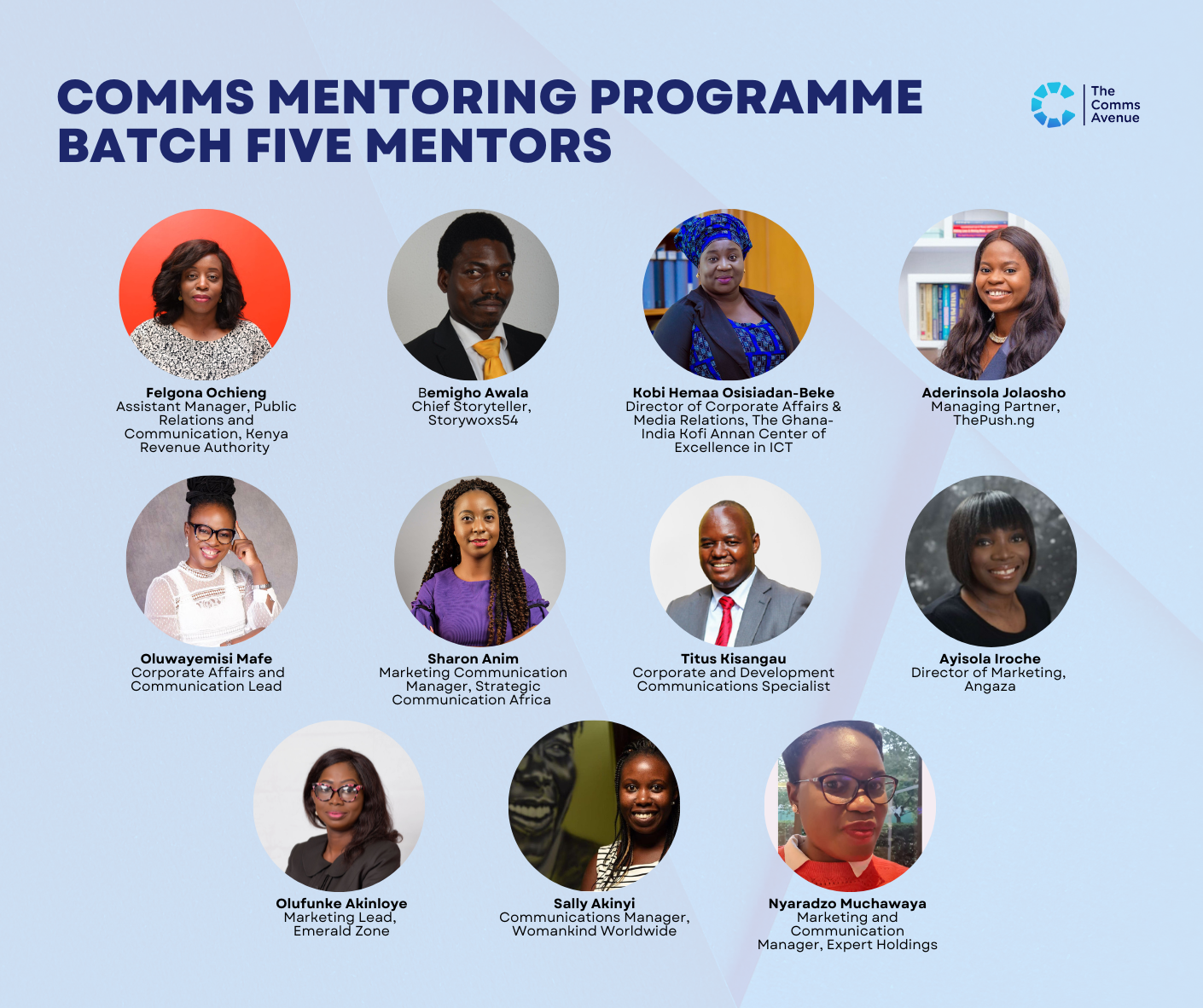 Many people think mentorship is about just talking to the person, and having a physical relationship with the person. I disagree. I prayed for Peniel. I muttered some prayers like, "By God's grace, before the end of this mentorship, Peniel would have gotten a job."
The Miracle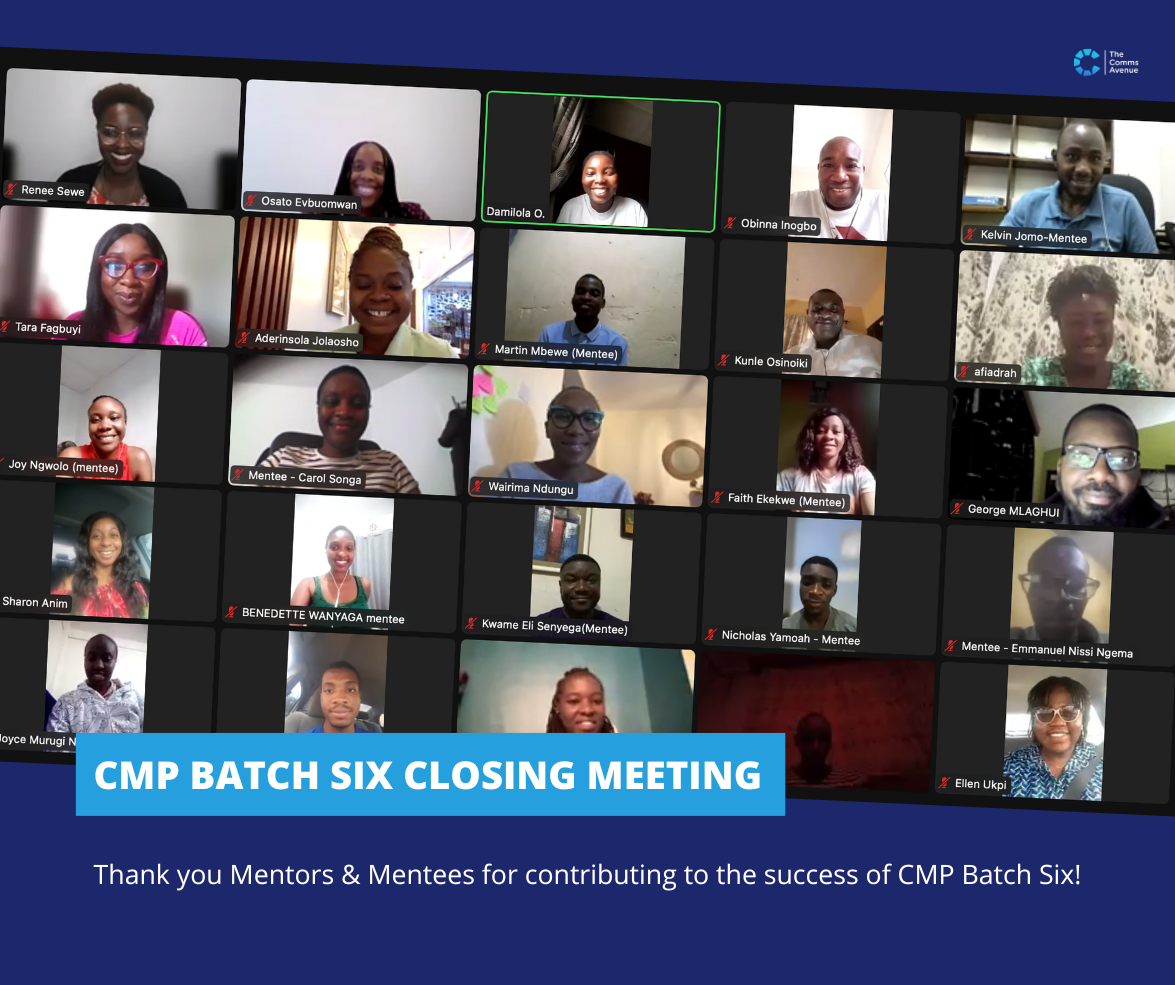 At week five, we were meant to meet, but the network was so bad that we couldn't meet on that day. The next day, Peniel sent me a nine-minute voice note. She was telling me about how she has gotten a second job offer, now she has to choose between two jobs. Funnily enough, she had applied for the jobs long before the mentorship. It was like a season of open doors and we were prayerfully looking at which job she would choose. In Peniel's words, she has grown and has become more confident, aware of her strengths and the journey is quite exciting.
My Lessons from Mentoring Someone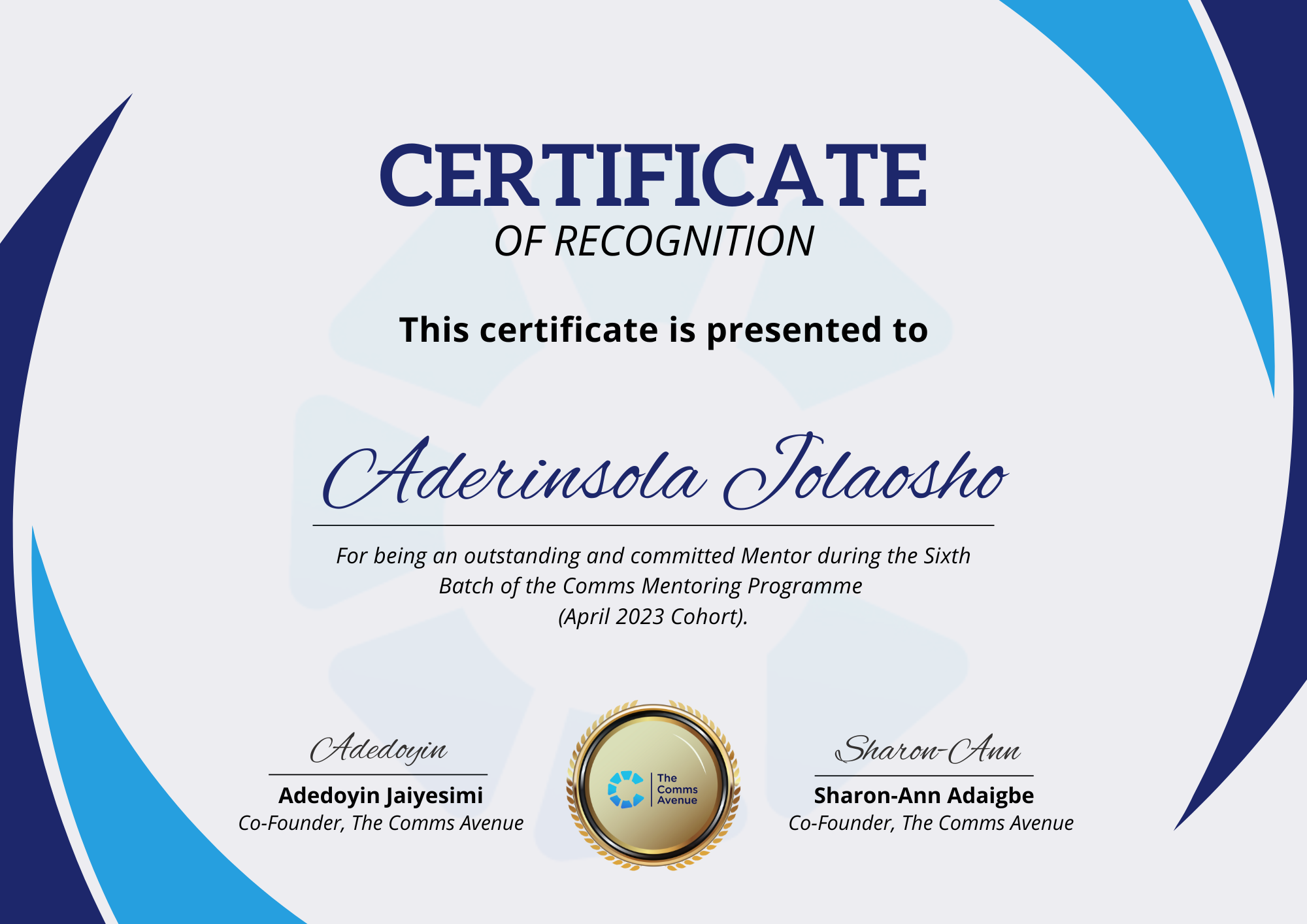 1. You are never too young or disadvantaged to mentor someone: I think that many people decide not to mentor others because they feel that they are not enough, which is a confidence issue. Today, I want you to know that you are not too young to mentor somebody. You have a substance that you can give, and The Comms Avenue is offering that platform. If you take all the little drops of the things you have learnt as a professional, you would see that you have enough to give back to somebody.
2. Mentorship is about empathy: If you do not have empathy, you cannot connect with the person's spirit. As a mentor, it is not always paperwork or how much you know as a professional, it is about what the person needs at that point and empathy helps you to find that. Most times, it's not about what you have taught the person or the theories, it is about your mentee knowing that you are there for them and in their team, and you can relate to what they are going through.
3. Mentoring is not just physical, it's also spiritual: I believe so much in spirituality. Many people think that it is just to talk to somebody but for things to open up, sometimes you need to pray for the person. It is not about talking because if you are talking and what you are saying does not meet the person's spirit, you will not get any results. It is not about what religion you are practicing; it is about what you believe in and how it connects with that person beyond the physical level.
4. Mentorship is about structure and platform: I thank The Comms Avenue for their platform and guidelines on what to talk to your mentee about and how to go about it. That helped me personally in my mentoring process. It wasn't about coming to have freelance gist, although we could gist, there was a brochure guiding these beautiful conversations.
5. Mentorship is about connecting with the right mentee: The platform plays a role in this. I receive messages from people if I could mentor them and others regularly, while I have mentored a few people in the past, the readiness and commitment of the mentee are key.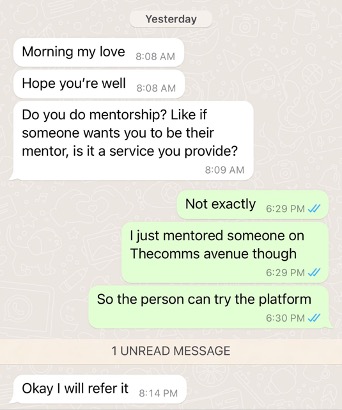 I want to thank The Comms Avenue, Dami and Adedoyin for their fantastic work – for giving us the platform, bringing in the right people, screening and determining whether the mentees were qualified. It is also a great privilege to mentor alongside the best comms professionals in Africa.
So this is my experience mentoring Peniel and I am excited I had this experience. Are you a Comms professional? Are you confident enough and believe you can impact a life? You should check out The Comms Avenue to sign up as a mentor.