On Saturday 21st October, we brought our community members and Communicataions professionals together for our third hangout in Nairobi. This hangout gave our community members an opportunity to learn, share knowledge and network with other professionals.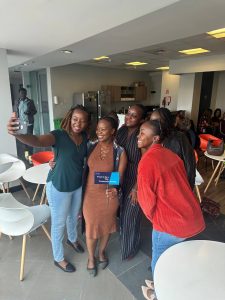 Proudly supported by Dalberg Media who hosted the hangout at their beautiful Nairobi office, we got to learn about the latest trends in storytelling from a Dalberg Media representative. Starting with an overview of the work that Dalberg Media does across the continent, Nelisa Ngqulana, Associate Partner at Dalberg Media, took us through their unique approach to storytelling and why storytelling is a critical tool for social impact work.
Nelisa particularly emphasised that their "storytelling process embraces localisation and partnership with locals and local organisations, to create awareness of various projects and places the power in the hands of the community to shape the right narratives."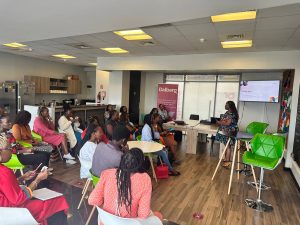 Aside from sharing Dalberg Media's storytelling methodology, Nelisa also shared important tips on how she articulates the value and importance of Communications in her work.
"I have realised that the clients or colleagues that I work with sit with the data and the knowledge that I need. What I do is to focus on my strength and then I make the most of the knowledge that is around me. I tap into this knowledge and bring in my expertise in Strategic Communications to deliver the necessary results."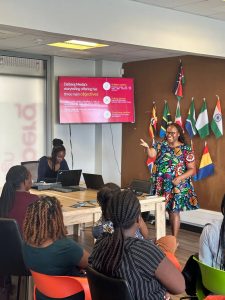 We also got to listen to some inspiring words from Alero Ayida-Otobo, CEO of the School of Politics, Policy and Governance who reminded us about the need for Communications professionals to understand the results that their senior leaders and executives want to achieve and use their skills to achieve those results. She also emphasised that Communications professionals cannot afford to work in silos in any organisation. Collaboration is key to effectively perform our roles.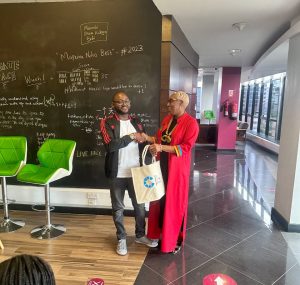 These words of wisdom combined with the fireside chat with our Co-Founders, Adedoyin Jaiyesimi and Sharon Adaigbe, made this hangout super special. Attendees got to learn more about the work we do at The Comms Avenue from our Co-Founders and they also gained useful tips for their professional development.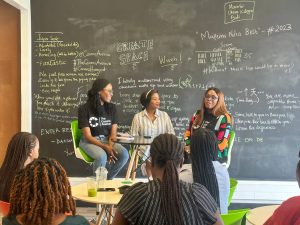 Here are some key takeaways from the fireside chat with our Co-Founders:
You are never alone in your career journey. It is always important to have a supportive community of people who can be there for you in the low moments.
Building anything is not always an easy process. There will be challenging times. Even though building a career and a meaningful life can be difficult,  your learning curve is shortened when you are able to tap into someone's knowledge.
There is always a 'yes' somewhere despite the many rejections you may encounter as you seek for opportunities. Sometimes, you get many closed doors but when one does open, it is amazing to see what is behind it. Don't be disappointed with the no. Pick yourself up and keep pushing.
Get out of your comfort zone and discover new strengths. This means you need to be intentional about learning. A practical step is to pick three learning gaps that you have and plan a schedule towards achieving these goals by reading, taking courses, attending webinars etc.
Prepare ahead for opportunities. Sometimes the available window to take advantage of an opportunity is usually very small. You need to get everything you need ready ahead of time so that when the opportunity you want eventually comes, you're ready for it. Some of the things you might need to have ready are your updated CV and your portfolio.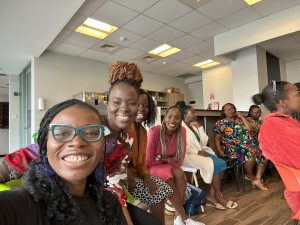 We'll share one more striking nugget from the fireside chat – "TCA is big on collaboration with other partners that have similar goals. It is not about competition because there is room for everyone to thrive in the Comms field but it is about adding value to our community members." Even in your career journey, embrace collaboration over competition.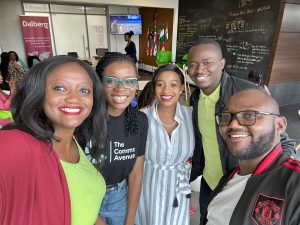 Our TCA Kenya Hangout was truly an insightful event with lots of important lessons to takeaway. We are looking forward to our next hangout.
Want to join our growing community of Communications professionals from across the continent, you can sign up here – bit.ly/TCASignUp.