Our Comms Spotlight for this week took the road less travelled and transitioned from Communications to Journalism and then came back to Communications! Meet Virginie Couronne. She is the Senior Communications and Content Specialist at Bank One Limited and she strongly believes that her experience in Journalism gave her an advantage when she moved back to Communications. In her interview with us, Virginie talks about her inspiring journey and some of the lessons she's learned along the way.
---
What do you do as the Senior Communications and Content Specialist at Bank One Limited?
Overall, I have been in the banking sector for the past six years and I have been with Bank One since 2020. While my job initially focused on External Communications, such as Media Relations, Public Relations, and Crisis Communications, among others, my responsibilities have evolved to include Content Creation and Digital Communications.
I discovered this new facet while completing my ACIM certification from the Chartered Institute of Marketing (CIM). Digital Communications has added an element of excitement to my field of expertise, helping me develop new skills and adapt to the latest digital trends.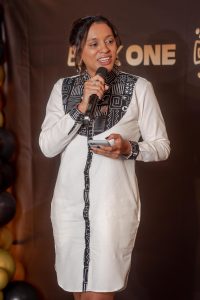 Tell us in detail about how you began your career in Communications.
When you start your career as an aspiring Communications professional, nothing really prepares you for what to expect. The world out there is completely different from what you learn at university. While you have the right base and knowledge, it is the steps you take at the beginning of your career that determine the professional you become.
I started my career in a Public Relations boutique, and this initial experience was vital. Later on, I transitioned to Journalism. Professionals usually take it the other way around, that is, they transition from Journalism to PR, but I was pleased that I got to experience media relations in the heart of Journalism itself. Two years later, I decided to leave journalism and enter the field of Communications and Public Relations. Having had firsthand experience in both fields, I realised that Communications was a better fit for my career aspirations.
I joined the corporate world in 2017, and since then, I have been on an exciting learning curve. Growing as a professional is not always easy, but one thing I decided from the onset was to do it my way. I have spent the last few years experiencing, testing, and implementing a Communication approach that is unique to the bank, and I feel fortunate to have the opportunity to do so. Every single day, I wake up with a strong sense of purpose.
Can you share some career lessons that have shaped you into the professional that you are?
By nature, I am quite stubborn, and this trait applies to both my professional and personal life. Whenever I hold a strong conviction and belief that something will work well, I do not easily accept "no" as an answer. This mindset has allowed me to be bold, authentic, and to stand up for what I believe is right.
Above all, it has driven me to continuously improve myself and appreciate the privilege of being part of a great team. I believe a career is a collection of many lessons, and the most crucial aspect is to view each lesson as an opportunity for personal growth and to become a better person.
Tell us about a major challenge you've faced in your career journey and how you overcame it.
Throughout one's career, challenges are inevitable, and as I mentioned previously, it is all about how you handle these situations while staying true to yourself. One significant challenge that comes to my mind is the Covid-19 pandemic. It forced us to completely rethink how we communicate with our audiences.
In terms of media relations, we witnessed a significant shift towards online media since print media became unavailable during the lockdown. We had to swiftly adapt our communication strategies to these exceptional times. It was during this period that my interest in Digital Communications grew, and I decided to undertake my CIM certification right after the lockdown. This paved the way for me to embrace a new challenge at the bank as a Content Specialist.
What advice would you give budding professionals who want to follow your path?
When you embark on a career in Communications, ensure that you choose the right area of expertise. Explore, learn, and never stop learning. Don't be afraid to go out of your comfort zone. Keep your objectives in sight and do not hesitate to reach out to other professionals to learn from their experiences. I have been fortunate to have had the guidance of seasoned professionals whom I can lookup to. Additionally, build your own network!