Combining her love for communications with photography, our Comms Spotlight is deliberate about telling an authentic story that can change lives. Tshego Tshangela is a Communications Strategist and Account Manager who believes in paying it forward by empowering the next generation of communicators. In our interview with her, she talks to us about how she began her journey in communications and how she has grown in her career.
---
How did you begin your journey as a communications professional?
After I completed high school, I studied Journalism & Media Studies while volunteering at my local community radio station as a news anchor and producer. That lead to Radio Production as a qualification in hopes of moving into a commercial radio station. However, I was introduced to public relations and honestly, I never really looked back because it drew me closer to my now passion of strategy development, media relations and stakeholder engagement.
What is a typical workday like for you?
Besides being a mom to my very busy toddler, I usually arrive around 7am and plan out my day. In most cases, I also use the time to send design briefs to the team, catch up and respond to mails.
By 10am, I am buried in developing content, working on communications strategies and action plans or meetings.
My day ends at 4pm – I head to to the gym for an hour before picking up my little girl from pre-school.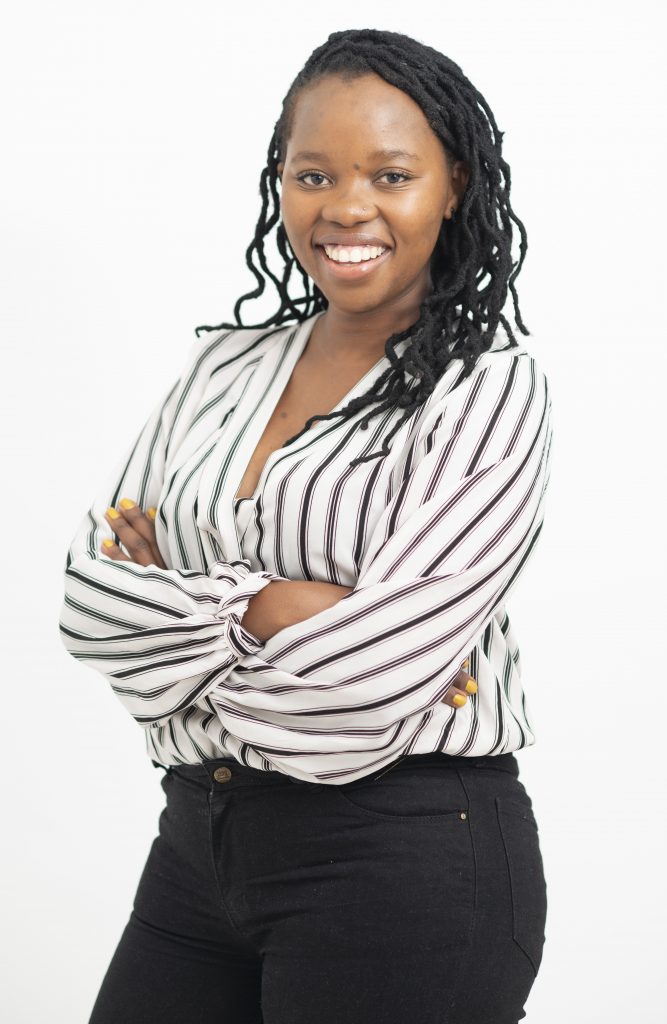 Your career journey is quite impressive. Can you share some deliberate steps you took to grow as a professional?
From a young age, I have always had a passion for talking. Recently, my mom reminded me that I had always dreamed of being a spokesperson because I wanted to be paid just to talk. That is how I went and studied Journalism & Media Studies before majoring in Radio Production.
During my first year of Journalism, I volunteered at a local community radio station as a news reader and researcher/producer for about four years. Honestly, I was introduced to PR by a radio presenter and I immediately fell in love! I was really intrigued by the "behind the scenes" strategic work for all communication activities we see/hear/read on a daily (in branding, social media, campaigns, media interviews, etc.).
From that point on, I have been deliberate in working for agencies that will help me grow and hone my skills in strategy, media relations, stakeholder engagement and crisis communication across various industries.
Another key factor is that I believe in paying it forward – for every skill I develop, new contact made and industry event attended, I work to empower the next generation of communicators with the necessary tools that will push them further in their careers.
How do you combine photography with your communications career?
Photography is something I picked up as a hobby while studying. As a communicator, we work to tell a story that can enhance, empower and change a life. And that is exactly how I approach my photography – tell an authentic story that can enhance and empower the next.
I must admit that there are some images I have taken that have brought me to tears. And I, one day, hope that I can exhibit some of these photos in a gallery for the world to see.
Can you share the most daunting challenge you have faced in the course of your career and how you overcame it?
As a young black female professional, I have encountered sexual harassment from both male and female bosses and racist managers/bosses. I overcame a lot of these challenges by simply speaking up – with HR, friends, family and even in therapy.
I understand that "hurt people hurt people" and I deliberately choose to always put myself, mental and physical health first while I ensure that whatever challenge occurs, does not affect my career performance and growth.
If you could give your younger professional self some advice, what would it be?
Never be too rigid in career choice – sometimes, "going with the wind" is merely a stepping stone into your true passion.
The Comms Spotlight is a weekly segment where we feature communications professionals across Africa doing amazing work. Want to be featured or know someone we should feature? Send an email to letstalk@thecommsavenue.com.