Our Comms Spotlight for this week is Tshego Kekana. Tshego has had an exciting career journey so far and she's not slowing down. Currently, she is the Founder and Managing Director at Alfa Destiny Communications. In our interview with her, Tshego shares her experience working with big brands and collaborating with teams across the continent.
---
What does a typical day for you as the Founder and Managing Director of Alfa Destiny Communications look like?
I wake up every day at 4:30 am. I spend the first hour of my day meditating, praying, and watching something motivational to kick-start my day. From 5 am to 6:30 am, I check urgent emails while making breakfast – then I get ready for work. My days are always unpredictable, with back-to-back meetings, admin work, speaking engagements, events, etc. So I always use my mornings to catch up on as much work as I possibly can. Also, I'm a mom to two children – my evenings are spent checking homework, having dinner and catching up with my family.
Can you tell us how you began your career in Communications and the deliberate steps you took to grow professionally?
My career started when I took a diploma course in Public Relations and started working while in my second year of varsity. I worked as a temp PR Intern for one of the biggest record labels in South Africa. I pushed myself to still complete my studies while working. Then I landed my first, official internship with Weber Shandwick, a global PR agency. My journey grew from there, having worked for amazing agencies and corporates that helped shape my career. I was fortunate to work on brands and companies such as Rolex, McDonald's, Coca-Cola, Sasol, Standard Bank, Old Mutual, and others.
I started Alfa Destiny Communications in 2016 while unemployed. The agency is a pan-African, integrated marketing and communications company with partners in five other African nations. I have always been a self-starter and found inspiration in other entrepreneurs who started businesses and grew them into successful brands. I am what they call an "overly ambitious" person. I always push boundaries and look beyond the limitations that can be set before us. What made me start my business initially was the need to help small businesses gain access to professional PR and marketing services at an affordable price.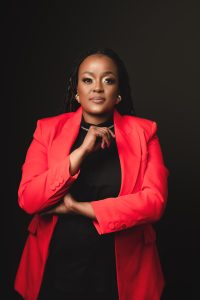 Can you share a major highlight from your career journey so far?
My first career highlight was working on global brands that are making an impact in the world. Another highlight was leading PR campaigns for a big South African bank – Standard Bank – between 2017 and 2020, as well as leading PR teams in SA, Kenya, Ghana, and Zimbabwe in launching a big client campaign in 2020 that was aired on DSTV channels across Africa.
In 2021, I became a finalist in the Standard Bank Top Women Awards for the Top Entrepreneur Award. Working on great brands has been a highlight for me. As a business, we won two big clients in 2020, during COVID and the lockdown. This was a big deal for me personally, at a time when the world went into turmoil, and my business was gaining momentum. Another highlight is getting the opportunity to be recognised and speak at events outside of my home country.
Your work has involved collaborating with teams across Africa. Can you describe your experience?
I have had the privilege to work in different countries across Africa, particularly Nigeria, Ghana, Kenya, Zimbabwe, Zambia, and Malawi. Learning and understanding the different cultures has been interesting. How media operates in these countries is very different, and I have learned over the years to never apply a blanket approach when working with media across Africa. It's important to learn and understand the media landscape in each country.
Also, it's important to learn and understand their culture and way of work. At times, understanding the cultural dynamics is important as well as the various language barriers. For example, when working in Zimbabwe – we learnt how different the Shona and Ndebele cultures are; and their way of work and style of communicating. It has also been interesting to learn the different work ethics of various Africans.
What changes would you like to see in PR and Communications practices in South Africa?
Inclusion of small agencies within the bigger PR landscape. Smaller agencies should be given more opportunities as they have the capabilities and are hungry to do excellent work for big brands. I would also love to see more opportunities for graduates to learn and grow within the field. Lastly, as an industry, we do need a support network where we can share ideas, challenges and opportunities to develop and empower one another.
What advice would you give your younger professional self?
You can achieve anything you can dream of. No matter how small, just get started. Go and start working on your dream, do what you love, and the universe will conspire to make your dream a reality. Just do it.