Our Comms Spotlight for this week communicates for a cause. Segawa Salim is the Communications Manager at AMPLIFY GIRLS and a professional who is focused on creating lasting impact. He shares his passion for creating lasting solutions to the problems faced by adolescent girls through his work.
---
Tell us about your journey into communications and the intentional steps you have taken to build your career.
My journey into the communications space has been quite interesting and unpredictable. It began at the beginning of my university years, somewhere around 2012. I had an opportunity to write my first story about the American singer, Sisqo, coming to Uganda for an online publication called Big Eye Entertainment. I shared it with the editor, he liked it, so I continued writing. 
Along the way, I became more interested in the nuances of communication, social media, and digital marketing. About a year later, I started my entertainment platform called Urban Hype Entertainment. The experience I gained from running Urban Hype opened up more opportunities. I wrote more, conducted interviews, and enjoyed working in the media industry. A couple of years later, I became a Communications & Social Media Lead at Talent Africa before joining NBS TV, one of the country's top broadcasters. I gained a lot of experience in the newsroom.
Fast forward to two years later, in the middle of the pandemic, I took my first shot at NGO work to pursue something beyond just making money – purpose. I joined Teach For Uganda, an NGO based in Kampala, for two and a half years. This marked the beginning of my full-fledged journey into communication. In April 2023, I joined AMPLIFY GIRLS, a not-for-profit collective supporting community-driven organisations working towards localizing global development and investing in adolescent girls. 
I continuously improve and build my career, teaching myself most of what I know today. I extensively read about communication, marketing, and blogs to stay updated on changing trends. I was intentional about personal development programs, preparing myself for opportunities in the social impact space. Equipped with these skills, transitioning into the not-for-profit sector was easy, allowing me to do amazing things. That's how my journey started, involving intentional steps of learning, unlearning, and relearning. It may sound cliché, but that's exactly what I did.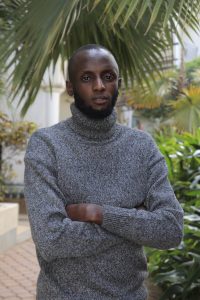 What do you do as Communication Manager at AMPLIFY GIRLS?
As the Communication Manager at AMPLIFY Girls, my primary responsibility is to lead the strategy and execution of our organizational communications plan. We are a young and fast-paced organization, and I am at the centre of steering the brand's purpose through different communication strategies to grow our audience base and share the amazing work we are doing with over 40 community-driven organizations in Eastern and Southern Africa. These organizations are working towards localizing global development and investing in adolescent girls.
Although I am still new in this role, I am excited to explore innovative and creative approaches to communication. I aim to bring a sense of curiosity and out-of-the-box thinking to develop engaging and impactful content that captures the attention of our audience. Creating a significant impact on the growth and success of AMPLIFY GIRLS is at the core of my work every day, and I am enthusiastic about collaborating with my team to achieve great things.
How do you leverage communications to drive the mission of improving the lives of adolescent girls at AMPLIFY Girls?
Communications in the social impact space is quite an interesting facet, honestly. It's not like PR. it's more about understanding how the Theory of Change fits into the puzzle of the 'why' of the organisation. Our communications activities are rooted in the purpose of our existence. At AMPLIFY Girls, we are moving to understand the story, the facts, the case studies, the best practices—name it—from every data point, we look at. We are building a tool that w
ill help community-driven organisations measure girls' agency, and this is where communications come in to create the awareness and the need for an industry-standard solution that will help community-driven organisations measure their impact effectively, assess girl-focused programs, improve those programs and also be able to fundraise for more resources. We are leveraging communication to create advocacy around the community-driven organisations and lobbying for more funding for these grassroots organisations that have localised solutions for local problems. And once all the components are fluid, guess who wins? Adolescent girls.
What do you love the most about working in communications?
Communications is a dynamic field that allows you to experiment with whatever strategies you think of. It's not limiting. The fun about it is that it keeps you on your toes thinking, designing strategies and executing them. Plus you get to travel some more! Haha.
Can you share some mentors or professionals who have played a significant role in your career so far?
I would say Samuel Songa played a significant role in helping me find a path to this career. When I started working at NBS TV, he was my mentor and I learned so much from him. I would also say Kevin L. Brown has influenced the way I think about social impact ever since I started following his work. I definitely look up to him.
What career advice would you give to your younger self?
"Don't waste the good days" – Seth Godin