Our Comms Spotlight for the week is a creative professional with expertise in all aspects of successful
marketing, advertising, public relations, event planning, and management.
Currently the Regional Marketing Manager of De-United Foods Industries Limited (manufacturers of Indomie Instant Noodles, Power Pasta Spaghetti, Minimie Chin Chin, Dano Milk etc.), Kunle Osinoiki has over 26 years of solid B2B marketing experience, delivering profitable solutions to drive sales, attracting and maintaining customers, and building a solid corporate brand.
In our interview with him, Kunle shares from his wealth of experience and gives us insights from his professional journey so far.
---
Can you tell us what you do as the Regional Marketing Manager, De-United Foods Industries Limited?
My role covers Marketing Planning, Territory Management, Sales Force Development, Key Accounts, Management, Event Planning & Execution, Negotiation, Vendor Management, Project Management, Business Development, Risk Assessments, Strategic Planning, B2B and B2C Sales Expertise, Presentation Skills, Branding & Promotions, Process Improvement, Dataset Analysis, Market Research, Business Operations, Strategic Marketing & Sales, Customer Relationship, Regulatory Compliance, Identify specific regional marketing goals and objectives.
I'm also responsible for:
– Developing execution plans and manage field team by implementing the plan.
– Maintaining and providing strength to company's brand position in assigned regional marketing area.
– Interacting with marketing leads to develop and supervise regional marketing budget.
– Recommending strategies to integrate into local regional marketing plans.
– Supporting the Marketing Director to manage crisis management and local media relations.
What are some of the deliberate steps you took to develop yourself and grow in your career?
I joined the National Institute of Marketing of Nigeria, wrote the exams and became a Chartered Marketer. I also attend several training and seminars, read books on marketing and strategies and I have mentors and role models. Other things include:
– Dedication, Hard Work, Integrity, Commitment, Passion.
– Determination to succeed and Good Attitude.
– Posting on LinkedIn – Marketing Strategies, Economies of Nations to build my networks and recognition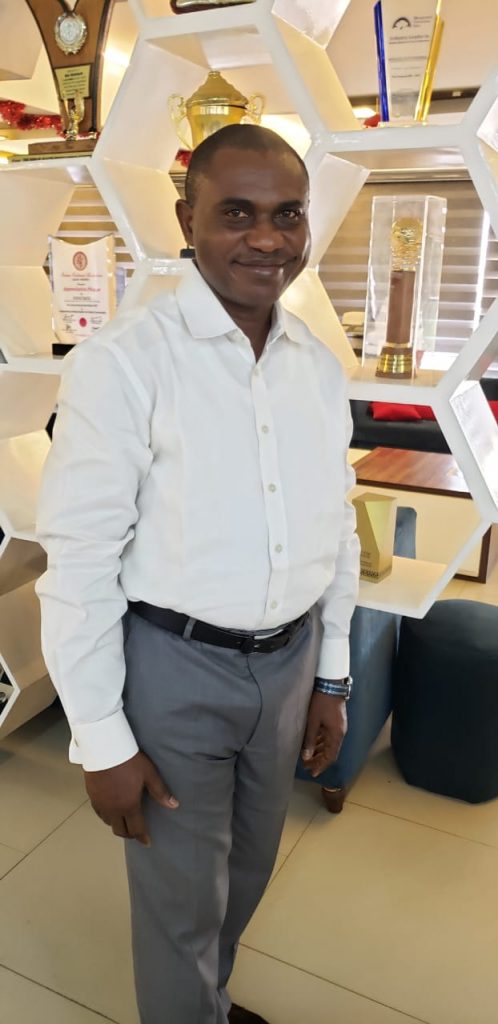 Can you share one major challenge you have faced in your career so far and how you overcame it?
Transfers –  I have been transferred 7 times in less than 14 years – Worked in Akure, Enugu, Onitsha, Calabar, Port Harcourt, Ibadan and now Lagos. Though it is very interesting, knowing people, places, cultures, food, local businesses, the challenge here is that you change accommodation, furniture, children school etc. which can be very expensive and you have to take care of personally.
Also, promotions take time, and you overcome with patience and perseverance.
What are your thoughts about the marketing and communications practice in Africa? What changes will you like to see?
Marketing and Communications practice in Africa is very huge. Some are still untapped in most African countries. Advertising, Public Relations, online media and sales promotions need to be funded heavily but you find out that most companies tend to reduce their budgets and many organizations lack adequate financial resources to develop and implement an effective strategic communication plan.
The changes I would like to see are as follows:
1. E-mail Marketing
2. Social commerce and selling
3. Go digital using dashboards
4. Integrated Marketing
5. Clear Marketing Objectives
6. More consumer experience
7. Consumer retention focus
8. Content Marketing using videos
Please share some books and resources that you've found beneficial in your  career journey?
1. The Richest Man in Babylon by George S. Clason
2. Rich Dad Poor dad by Robert Kiyosaki
3. Think and Grow Rich – Napoleon Hill
4. Good to Great by Jim Collins
5. Who Moved My Cheese by Spencer Johnson
6. Tough Times Never Last but Tough People Do by Robert Schuller
Bibliographies of Successful People – Dangote, Tony Elumelu, Femi Otedola, Mike Adenuga, Jim Ovia, The Aswanis, Elon Musk, Richard Branson,  Jack Ma, Jeff Bezos, Mark Zuckerberg.
If you could have a conversation with your younger self, what will you say and what advice will you give?
1. To be focused
2. To be disciplined, dedicated, determined and have a good attitude
3. Have integrity
4. Have patience
5. Service delivery
6.. Have an intrapreneurial spirit
The Comms Spotlight is a weekly segment where we feature communications professionals across Africa doing amazing work. Want to be featured or know someone we should feature? Send an email to letstalk@thecommsavenue.com