Our Comms Spotlight for this week was once on his way to becoming a Lawyer. He also believes that lawyers are PR practitioners with a niche audience. Currently, Babigumira Paul Atwine is the Marketing and Communications Director at Global Events Africa. He has worked on notable projects and events including the IRONMAN 70.3 Rwanda and the international Nyege Nyege Festival. In our interview with him, Paul talks to us about his passion for the work he does and how he was able to navigate a difficult challenge on his career journey.
---
What does your role as Marketing and Communications Director at Global Events Africa entail?
Global Events Africa is a professional conference organiser and destination management company with headquarters in Rwanda. We have provided Events Management, Experiential and Venue Sourcing services for the last five years, curating and managing expansive events with attendees over 1000 and budgets of $20M+. Our experienced and diverse team have seamlessly overseen technical aspects for events like BAL and official CHOGM side events in 2022, IRONMAN and Giants of Africa Festival with over 5000 participants, all in Rwanda.
My role entails stakeholder management and strategic communications with our partners and funders, brand positioning through events, digital communications and speaking forums. I'm also involved in programme design and management for our social impact programmes, internal and external communications, international sports marketing, and media for our annual flagship endurance sports event.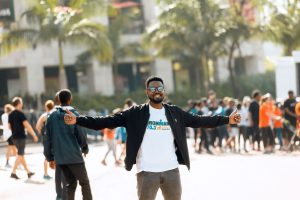 How did you begin your career in Public Relations and what deliberate steps did you take to grow as a professional?
My journey to beginning a career in Public Relations began with my admiration for one of the greatest lawyers Uganda has ever known, my late father. As a child, I fell in love with how my dad dressed and how articulate he was when he spoke. There was an aura of confidence that he exuded that captivated me and fashioned my love for diction and refined conversations. I read a lot of literature as a child, and this groomed the storyteller in me. I had the uncanny ability to weave a tale with whatever little information I could get on a particular subject matter.
Naturally, I opted for arts in my secondary education and later proceeded to get my bachelor's in Law. I have always believed that lawyers are Public Relations practitioners in their way only that they represent an individual or brand in court. I joined media shortly after my Law degree and taught myself Digital Marketing and Communications. Through various Public Relations roles in Rotary, I worked with professionals and took the lead on Digital Communications for several charity campaigns including the Rotary Cancer Run. Having gained hands-on experience, I joined the hospitality industry working as Brand Manager for a boutique hotel. This role exposed me to writing featured articles and reviews for magazines that advertised the hotel.
At the end of 2016, I was poached by Talent Africa Group where I spent five years doing Digital Communications, Media Relations, Influencer Management and monetisation of its digital channels namely YouTube and music publisher platforms. In 2018-2019, I became the Digital Campaign and Community Manager for the Nyege Nyege Festival, one of the top 10 music and arts festivals in Africa and the top festival in East Africa with over 10,000 attendees annually. This assignment further built my capacity in Public Relations due to the negative publicity we constantly thwarted by sharing positive stories about the festival's impact on improving the livelihood of the communities in the host city of Jinja. I joined Public Health in 2022 where I executed Social Behavioural Change campaigns and documented impact stories. In 2023, I moved to Rwanda where I do Public and Media Relations for the IRONMAN 70.3 Rwanda.
Tell us about a project or campaign you've worked on that stands out to you.
I would say the IRONMAN 70.3 Rwanda 2023 that happened in August this year. The event saw 250 international athletes come to Rwanda to be part of a triathlon race that includes a 1.9km swim, and a 90km bike race followed by a 21km run to the finish line. One key PR milestone for us was getting featured on Arsenal's social media page through our partnership with Visit Rwanda. For my first year as Marketing and Media Campaign Lead in Rwanda, it was a success we all celebrated as a team. What I found most fulfilling about this campaign is the exposure it gave 300 Rwandan youth to income-generating opportunities, new ways of working, innovation and hands-on experience working at an international sports event in Rwanda. Youth and women, refugees and persons with disabilities were part of the 300.
Can you share some highlights from your career journey so far?
For the Rotary Cancer Run, I amplified the event's digital footprint by moving from office to office and offering to put them on our socials if they registered and paid for 10 staff members. It was such a success that I was dubbed "CNN" by the corporate partners. One time a sponsor refused to hand over a dummy cheque until I was called to come document and publish the handover. We experienced a boom in corporate engagement, most especially in the lower sponsorship tiers. Diplo of Major Lazer was my very first digital campaign for a concert. The CEO wanted to give out complimentary passes, but I suggested that we use them to boost sales through a "buy four, get one free" offer. The positioning statement was "leave no squad member behind". All one had to do was buy tickets on behalf of 4 people and so on. We worked with our sponsor's agencies to push the fear of missing out (FOMO) and registered a boom in ticket sales. The campaign was called the Diplo Rush Tuesday.
The Nyege Nyege Festival is also one of those campaigns that stood out for me. We grew the following from 1,500 to 10,000, and we also had the highest sentiment scores documented during my tenure thanks to strategies like pairing influencers with our team of photographers to promote the fashion scene at the festival, spotlighting vendor-consumer experiences and mitigating a lot of negative earned media by feeding press and bloggers, content and impact stories that they could run. 
What is the biggest challenge you've faced on your career journey and how did you overcome it?
I would say my biggest challenge was shifting careers and pivoting from Digital Communications to Marketing and Communications. When the pandemic hit in late 2019 and the global lockdown came into effect in March 2020, most of the clients I was doing Digital Communications and Media Relations for in the entertainment, hospitality, and lifestyle sector, either had to close shop or drastically scale down operations.
My son was born in June 2021 on heroes' day. I thought critically about how sustainable the career path I had passionately and proudly walked for most of my 20s, was. I took a keen interest in Public Health because of the social impact I had observed for many years but didn't truly appreciate until the pandemic. I resigned from my job in December 2021 and set my sights on joining the Development space in 2022 with just my wits, connections and will, despite having not demonstrated experience specific to the Development space.
It was daunting at first because the roles I applied for did not consider me a desirable candidate, but I believed my seven years of experience doing Digital Communications and Campaign Management in the private sector made me fit for the different job descriptions I encountered. Seeing my peers whom I had started with years back, thrive in this space I was so dying to be a part of, made me feel like I had bet on the wrong horse; I loathed the seven years I had devoted to Digital Communications in events, hospitality, and lifestyle.
Having understood the full weight of my knowledge and capacity gap, I joined Communities of Practice, aggressively pursued a series of bridge courses in health communication and attended several webinars and workshops to stay ahead on the latest implementation tools, strategies, challenges, and donor priorities.
This was an opportunity to pick myself up and work my way up. It was invigorating starting from the bottom, grasping for every vine of knowledge, learning and opportunity with my eyes set on reaching the top and my feet claiming my destiny with each climb. I appreciated that it was capacity and not experience that I needed to improve. I worked as a Senior Communications Manager and a Marketing and Communications officer for two NGOs in 2022 and later that year in December, enrolled with the Chartered Institute of Marketing in the UK for professional Marketing purposely for my career in Marketing and Communications.
Can you share advice for professionals who would like to follow your path?
"The capacity to learn is a gift; the ability to learn is a skill; the willingness to learn is a choice" – Brian Herbert.
Learning in this digital age is beautifully chaotic because everything we learn either opens our minds and gives us the confidence to explore or confirms our biases and makes us steadfast in making choices that align with our values and/or school of thought. You might have read or been exposed to conversations that are making you consider taking up a career in Public Relations. I love the flexibility of Marketing and Communications because you can work in almost any sector. I worked in Public Health Communications in 2022 and in 2023, I am doing International Sports Marketing and Tourism. My "aha moment" not only brought me closer to finding purpose in what I do, but it also opened my mind to not limiting my career to one sector. You too can practice PR or Marketing and Communications in different sectors before you decide on a niche.